Listening to Belfast 89FM
You can enjoy Belfast 89FM around Greater Belfast on 89.3FM on your radio and anywhere in the world via the internet!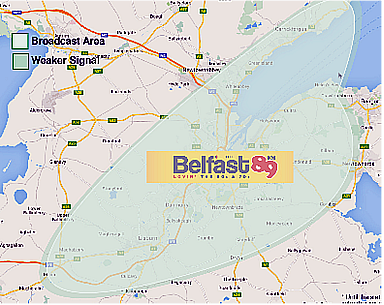 So many ways to listen to Belfast's own classic tracks station.
Tune in to us in the Belfast area at frequency – 89.3FM
Look for 'BELFST89' on your car radio.
Download the Belfast 89FM app for your Android or Apple phone or tablet. Click on the Google Play or Apple App Store links at the bottom of the page or visit the Google Play or Apple App stores, search for 'Belfast 89FM' (you will see our distinctive yellow hexagon logo), download and, wherever you are, you can be listening to Belfast's own Classic Tracks station with just a couple of clicks.
Find us on other radio apps (including TuneIn) on smartphones, tablets, smart TVs, Virgin Media and other TV boxes and dongles (including Apple TV and Prime) and smart Blueray players.
Ask your smart speaker to 'Play Belfast 89FM'.
On laptops, PCs and other internet devices – click the yellow hexagonal logo above!
Here for you 24/7 from the very heart of Belfast.
We would love to hear where you are listening so let us know at studio@belfast89.com

---