Let Alan lead you astray! Step into the Songlands with him.
He will dig deep into the music you love, feature a band or an artist every week and give them the respect of a good listen - like back when you'd play that new LP again, and again, and again . . .
So let's travel together - and take a trip through the Songlands . . .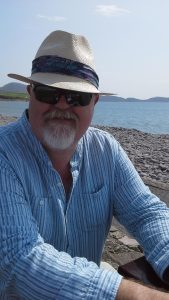 Alan Sheeran loves his music, be it rock and roll, funk or punk. Alan started off writing songs and taking to the stage at festivals across Northern Ireland. Then he discovered Belfast 89 and the joy of spinning our classic tracks and delving into the stories behind the songs. "I cant help myself," says Alan, " ain't that a Four Tops Song? Sugarpie, Honeybunch . . ."
Way back, Alan also worked setting up community organisations, Integrated schools and in Disability Rights, After playing guitar for fifty years, Alan has taken up Clawhammer Banjo – dear help the neighbours !
---
Read more
---